College Football: New Year's Six Bowl Game Preview, Predictions;
By Shayne
Forgot that I wrote about football, didn't ya?
Yeah, me too.
It's been nearly a year since I last posted something football related. And even then, let's be honest: my coverage last season was spotty at best.
What caused my progression towards a complete hiatus had more to do with my life situation during these past two seasons more than anything else.
For both the 2015 and 2016 seasons my life was in a state of flux. Last season was transitioning out of college into the "adult world", while this year was moving from California to Texas.
Both times, I was getting acclimated to a new setting, and admittedly ignored a good portion of the season (besides watching the abysmal 49ers, of course).
Also, starting in 2015, I became rather disillusioned with sports media. I started to really question how outlets like ESPN could spend an entire week talking about outcomes that they had no influence on.
In short, it threw me in an existential crisis, and I lost my passion, so I walked away.
But then something changed.
Moving to Texas gave me, like a LOT of time to reflect on things. Among those was my fandom towards football. It was then when I realized something rather important:
I'm not an analyst. This isn't my job. I'm just a person who loves football, happens to know way too much about it, and can write kinda well.
And so, I'm back to give it another whirl, and to put all the schemes, intangibles, and historical context that goes into understanding a football game suing silly little bullet points in a language that everyone can easily understand.
Feels good, man.
Let's do it:
Capital One Orange Bowl
Who: No. 6 Michigan vs. No. 11 Florida State
When: 5pm PST, Dec 30
One day, I'll learn to stop picking against Jimbo Fisher and Florida State. However, today is not that day.

Jim Harbaugh and the Wolverines were one inch away from punching their ticket to the College Football Playoff. And, depending on who you ask (like me), they were cheated out of it.

However, while Florida State

does

have 3 losses, two of them were to Top 10 teams, Louisville and Clemson.

Besides the dramatic loss to #2 Ohio State, Michigan's only loss was to unranked Iowa in a classic trap game.

Part of me is anxious with picking a Harbaugh team, since he always finds ways to lose big games.

That being said, Michigan is as talented and disciplined as any team in the country. If the Wolverines can find a way to contain the best running back in the country, Dalvin Cook, they should escape with a close win.
ESPN Prediction: Michigan
My Prediction: Michigan
Chick-fil-A Peach Bowl
Who: No. 4 Washington vs. No. 1 Alabama
When: 1pm PST, Dec. 31
Enjoy the enthusiasm while you can, Washington fans.

Now, don't get me wrong. I've liked Washington this season. I've been watching Jake Browning play since his prep days at Folsom High School.

But we've already seen happens when they play a physical team with good athletes, like with their loss to USC back in November.

Here's the thing: Alabama is much more physical than USC, and has better athletes.

In fact, this might be the best Alabama team that I've ever seen. For the first time in a good while, we're seeing a Crimson Tide squad that is just as dominant on offense than on defense.

Of Alabama's 13 wins so far this season, 8 were against ranked opponents.

8.

This doesn't look too good for Washington. Like, at all.

However, there

is

a chance.

The Huskies will have to stick to the short passing game and neutralize the Tide's pass rush.

And it is absolutely essential that Washington scores early. If they fall behind too much, Bama's defense will start smelling blood in the water.

That said, there's no question here. Roll F*ckig Tide.
ESPN Prediction: Alabama
My Prediction: Alabama
Playstation Fiesta Bowl
Who: No. 3 Ohio State vs. No. 2 Clemson
When: 5pm PST, Dec. 31
This might be the best game of the entire weekend.

Both teams should feel a tad lucky to be here. The Buckeyes were one bad spot on 4th down from missing the playoffs altogether. Clemson, meanwhile, has consistently played down to lesser opponents' level all season (Overtime against NC State? Really?)

While all the hype has been centered around Deshaun Watson, J.T. Barrett is one of the most underrated players in College Football. He's been a great leader for Ohio State during his years, and has always risen to clutch situations.

Like I mentioned earlier, Clemson has escaped from some close games this year.

The same is not the case with Ohio State, who has won over half of its games this season by at least 20 points.

Both teams are exceptionally talented, but in different ways.

Clemson's D-line is lethal, while Ohio State always has good DBs.

Clemson is a pass-happy offense, while the Buckeyes have had a dominant rushing attack for years.

With talent this evenly matched it comes down to coaching.

Do you really think I'd pick against Urban Meyer?

C'mon, man.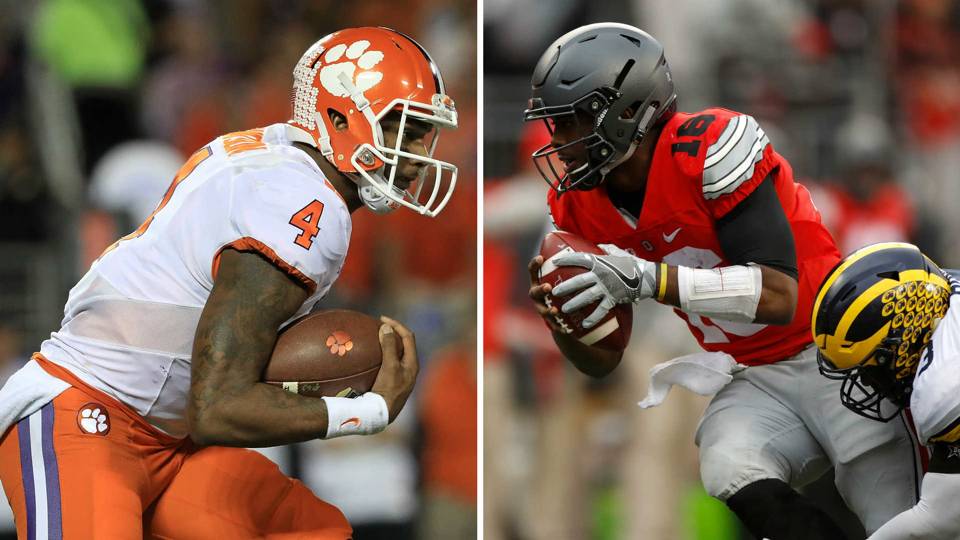 ESPN Prediction: Ohio State
My Prediction: Ohio State
Goodyear Cotton Bowl
Who: No. 15 Western Michigan vs. No. 8 Wisconsin
When: 11am PST, Jan. 2
Wisconsin's 3 losses were all to very respectable opponents, them being to Michigan, Ohio State, and Penn State.

Meanwhile, Western Michigan went a perfect 13-0, but did so in a non-Power 5 conference.

That being said, Western Michigan is legit.

Anyone who's watched the Broncos this year has witnessed how great their defense is.

They tackle excellently (a lost art these days), and have great team speed when swarming the ball.

All things considered, Wisconsin should be the easy pick here. They'be played better teams, and–according to the flawed college recruiting system–should be more talented.

But there's something about this Western Michigan team. A certain type of intangible that can't be measured.

Oh, I know what it is: hunger.

These boys are entering this game with something to prove. That goes a long way when you're facing a historical program like Wisconsin.

This is a pure gut call, but I'd love to see the Broncos shock the world.
ESPN Prediction: Wisconsin
My Prediction: Western Michigan
The Rose Bowl
Who: No. 5 Penn State vs. No. 9 USC
When: 3pm PST, Dec. 2
USC got punched in the mouth to start the season, losing 3 of their first 4 games.

The first of which was an embarrassing 52-6 demolition by Alabama on national television.

However, since then, USC has gone on a tear, finally living up to the level of talent that fills its roster.

Sam Darnold has been the spark this loaded team has needed, and should become one of the Pac-12's marquee names looking forward.

Don't sleep on Penn State, though. They're well-coached, physical, and motivated.

The Nittany Lions have also done well in big games this year, going winning 2 out of 3 games against ranked opponents.

The loss was 49-10 blasting by Michigan, but we can ignore that for now.

I wouldn't be surprised if Penn State pulled the upset, but USC is just way too hot. The Trojans can probably play with any team in the country right now.

Yes, even Alabama. Fight on.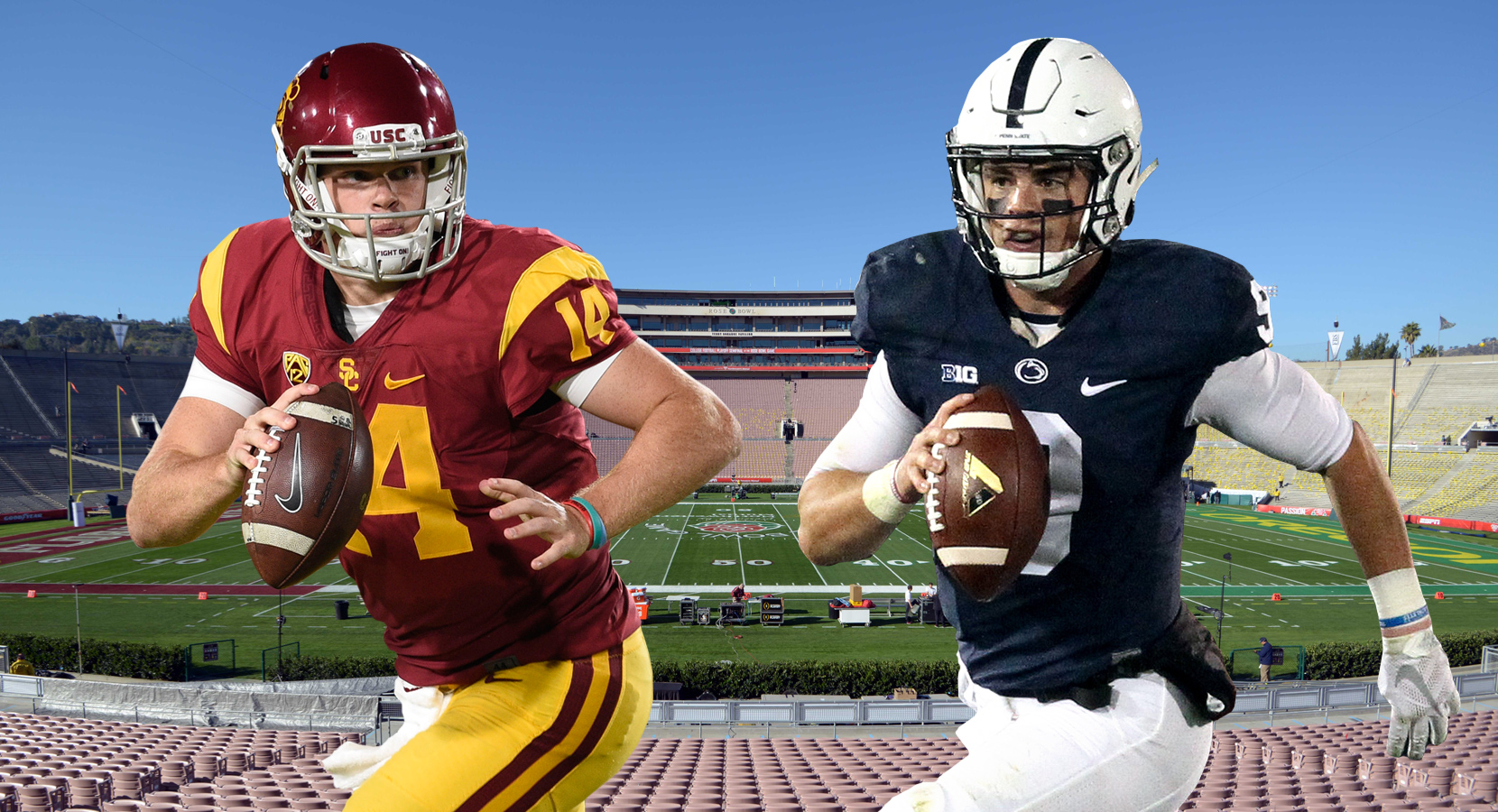 ESPN Prediction: USC
My Prediction: USC
Allstate Sugar Bowl
Who: No. 14 Auburn vs. No. 7 Oklahoma
When: 6:30pm PST, Dec. 2
Another close one, here. Which means we'll have to really read between the lines.

So far, Auburn has been a young roster that hasn't lived up to its potential, nor has it established any sort of team identity.

Well…besides backup quarterback John Franlkin III being the star of the fantastic Netflix series, "Last Chance U", anyway.

On the flipside, the Sooners have made a name for themselves with their explosive offense.

Baker Mayfield hasn't dropped off at all from his fantastic 2015 season. He threw for 38 touchdowns this season, and only 8 interceptions.

Dede Westbrook caught over 1400 yards this season and was a Heisman finalist along with Mayfield. So, ya know, he's kinda good.

Expect a lot of this game's dialogue to focus on Joe Mixon, since a 2014 video of him punching a female student has recently resurfaced.

Mixon was suspended for the entire season, and the incident is nothing new to the residents of Norman, so the timing of this seems…odd.

Controversy aside, Mixon still rushed for over 1,000 yards this season. The other OU tailback, Samaje Perine, nearly had 1,000 himself.

This game is predicted to be a shootout by many, but I think it really depends on which Auburn team shows up.

However, even if the "good" Tigers show their faces, I don't see it being enough to keep pace with OU's offensive arsenal. OU all the way.
ESPN Prediction: Oklahoma
My Prediction: BOOMER SOONER (Oklahoma)
Thanks for reading!